Partners

REHAU
Rehau is a partner of world-wide automotive concerns including BMW, Daimler Chrysler and Volkswagen. Innovative solutions from Rehau are broadly used in aviation, cosmonautics, furniture design, medical technics, home appliances etc. All the production facilities of Rehau are equipped according to the newest technologies including total computerization of the manufacturing processes. We are glad to be an authorized partner of Rehau and highly cherish our successful collaboration.
http://rehau.com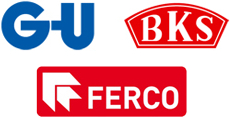 Gretsch Unitas
Gretsch Unitas is a company with more than 100 years of successful activities. GU is a pioneer in the field of window and door technologies, automatic entrance systems and building management systems. Company has developed numerous technical know-hows and currently it appears to be one of the main trend setters in the sphere of window and door hardware.
http://g-u.com

Hoppe
Hoppe is considered to be a leader of European market in terms of development, production and sales of hardware systems for doors and windows. More than 2700 employees all over the world and broad distribution network in numerous countries create conditions for the continuous development of Hoppe business. The direction of the company is large-scale production of high-class hardware with the optimal balance between price and quality. Hoppe products are not cheap or expensive but they always correspond their price.
http://hoppe.com